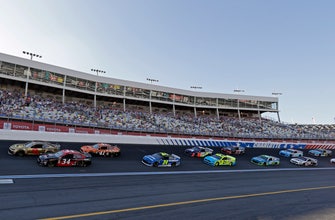 CONCORD, N.C. (AP) — The Latest on the NASCAR All-Star Race (all times local):
6:50 p.m.
William Byron is an All-Star.
Byron outlasted Bubba Wallace in overtime of the 20-lap first stage of the Monster Energy Open to advance into the All-Star Race later Saturday night.
Two more drivers will move into the All-Star Race from the Open, the leader of the 20-lap second stage and the winner after a final stage of 10 laps. One final driver will make the field from a vote of NASCAR fans.
NASCAR Cup Series rookie Daniel Hemric appeared to have the stage won with a big lead much of the way. But things came down to a green-white-checkered finish where Byron's No. 24 car moved from fourth to the front and prevailed over Wallace by a few feet.
Clint Bowyer will start the All-Star Race up front with Kyle Busch, the 2017 All-Star winner, alongside.
Source link