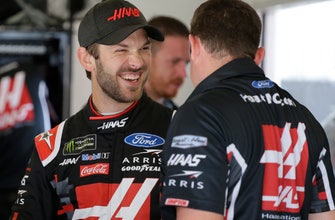 SPARTA, Ky. (AP) — The Latest on Saturday night's NASCAR race at Kentucky Speedway (all times local):
9:33 p.m.
Kyle Busch has won the second stage of the NASCAR race at Kentucky Speedway to make it a Busch Brothers event so far.
Kurt Busch won the first stage.
But the second stage went to his younger brother, who earned his sixth stage win this season in the No. 18 Toyota for Joe Gibbs Racing. Busch built a lead of more than eight seconds at one point.
Busch is chasing his third Kentucky win.
Erik Jones was next second in another JGR Toyota, while Austin Dillon finished the stage in third in a Chevrolet. Joey Logano and Clint Bowyer rounded out the top five in Fords.
Daniel Suarez's race continued to fall apart when the pole-sitter was penalized for speeding on pit road. Suarez started the race seeking his first Cup victory of his career.
Source link